Introducing sysmoNITB 3.5G
(Download the Data Sheet)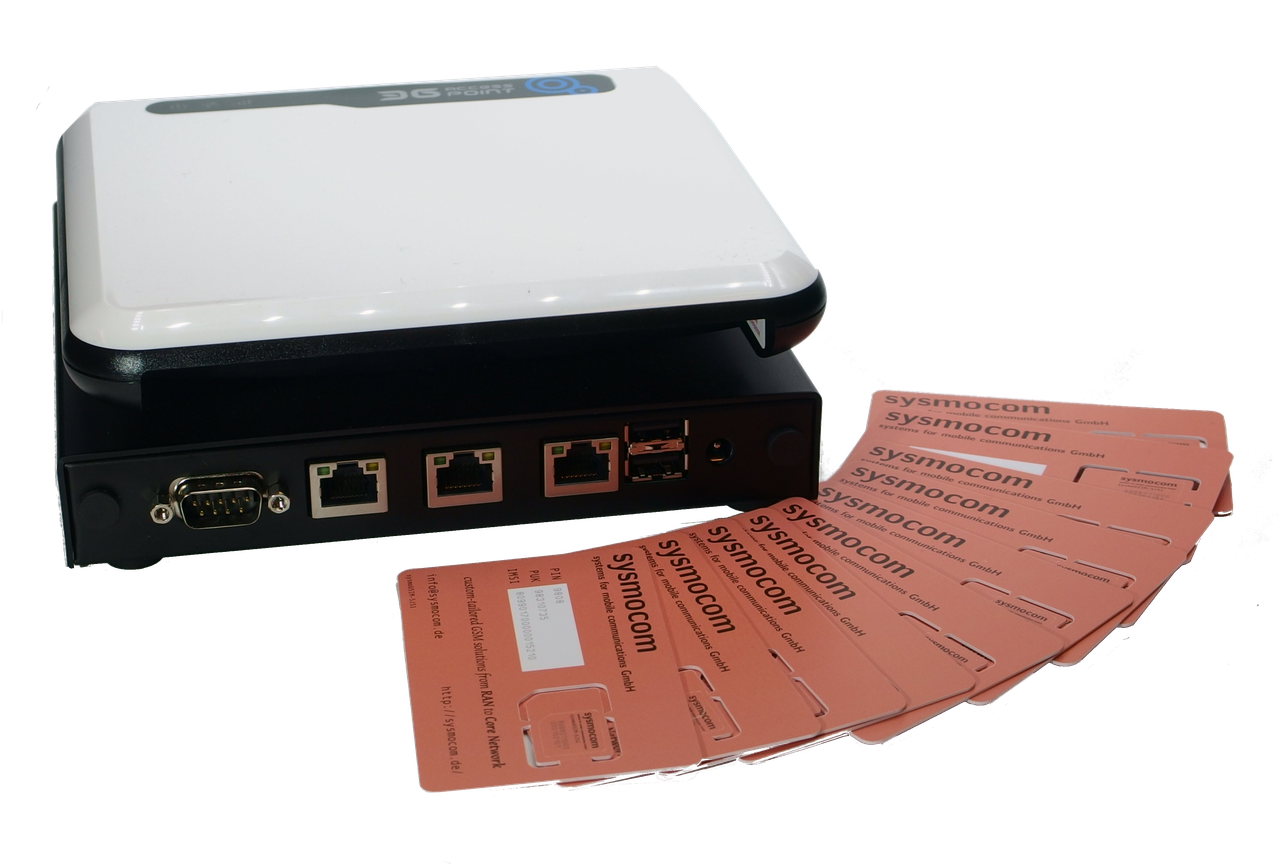 For many years the sysmoNITB (aka Network in the Box) has been known as a versatile solution to setup GSM/GPRS networks quickly and efficiently. Now, sysmocom introduces the sysmoNITB 3.5G: the next step in Free and Open Source mobile network technology. The sysmoNITB 3.5G paired with a supported hNodeB enables a wide range of applications, including:
IoT Testing for 3G based solutions

3.5G related research and development

Production testing of 3G/3.5G terminal equipment

Rapidly deployable 3.5G networks

Private 3.5G networks (PBX style use)

In-building coverage/capacity extension

Remote area 3.5G deployments, utilizing any IP-based satellite back-haul service
The sysmoNITB paired with an hNodeB runs a completely autonomous small 3G network. All core network elements like hNodeBGW, MSC/VLR and HLR are part of the NITB.
Limited edition starter kit for product evaluation
For a limited time and as long as stocks last, we are offering the sysmoNITB 3.5G starter kit limited edition. The starter kit enables you to quickly get started and run a completely autonomous 3.5G network without the need for any additional external components.
The starter kit is the ideal entry point for your first steps in setup and operation of mobile networks. Due to its pre-configuration and the complete delivery you can start with a working network. You can concentrate on your application much faster than setting up everything from scratch.
All you need to do in order to make calls, send SMS between your phones and use data services in this private 3.5G network is to:
unpack the starter kit

connect the power supplies

connect the sysmoNITB 3.5G with the hNodeB and (if desired) the internet gateway

insert the SIM cards into your telephones (phones not included!)

power on the phones
The starter kit includes
one sysmoNITB 3.5G

one nano3G femtocell (hNodeB)

20 pre-provisioned SIM cards (10 3FF, 10 4FF)

Printed copy of the sysmoNITB 3.5G Getting Started Guide

Fully installed + configured OsmoNITB 3.5G software image

Customer-specific factory configuration from a questionnaire – by order

4 hours of remote support by sysmocom staff (e-mail based, remote login/configure)
Technical Data
Mechanical / Electrical specification sysmoNITB 3.5G
| | |
| --- | --- |
| Dimensions of enclosure (W x H x D) | 168 x 28 x 160 mm (excluding power supply) |
| Weight | 450 g (excluding power supply) |
| Iuh Interface | RJ45 Ethernet (1000-Base-Tx) |
| External Interface | RJ45 Ethernet (1000-Base-Tx) |
| Management Interface | RJ45 Ethernet (1000-Base-Tx), DB-9 RS-232 |
| CPU / SoC | 1 GHz dual-core 64bit AMD G series T40E |
| Input Voltage | 12V DC, maximum 12W |
| Cooling | Passive. Active cooling optionally available depending on customer-specific enclosure or environmental requirements |
| Internal Memory | 2 GB RAM, 16 GB Flash (SSD) |
| Operational Temperature | 0 to 50 °C |
Mechanical / Electrical specification nano3G
Dimensions of (W x H x D)

168 x 160 x 30 mm (w/o stand)

Weight

275 g (excluding power supply)

Iuh Interface

RJ45 Ethernet (100-Base-Tx)

RF Output (internal Antenna)

UMTS Bands 2 and 5 (1900MHz / 850MHz)

Max. output power: 20mW

Simultaneous Users

8

Operational Temperature

0 to 40 °C

Input Voltage

9 V (DC), 8W

Cooling

Passive, no fan or other moving parts
Software / Logical specification
| | |
| --- | --- |
| Configuration Interface | Command line based (CLI) introspection + configuration |
| Interface hNodeB ↔ HNB-GW | 3GPP Iuh (RUA/HNBAP/RANAP) |
| Interface HNB-GW ↔ MSC + SGSN | Iu-CS and Iu-PS over SUA (SCCP/M3UA update coming soon) |
| Supported Services | SMS, Voice Calls and Packet Data (IPv4) |
| Authentication | UMTS AKA with USIM and GSM-SIM fall-back to 2G auth context |
| External SMS Interface | SMPP v3.4 |
| External Voice Interface | MNCC, can be translated to SIP using osmo-sip-connector |