Introducing the sysmocom miniPCIe WWAN modem breakout board
(Download the Data Sheet)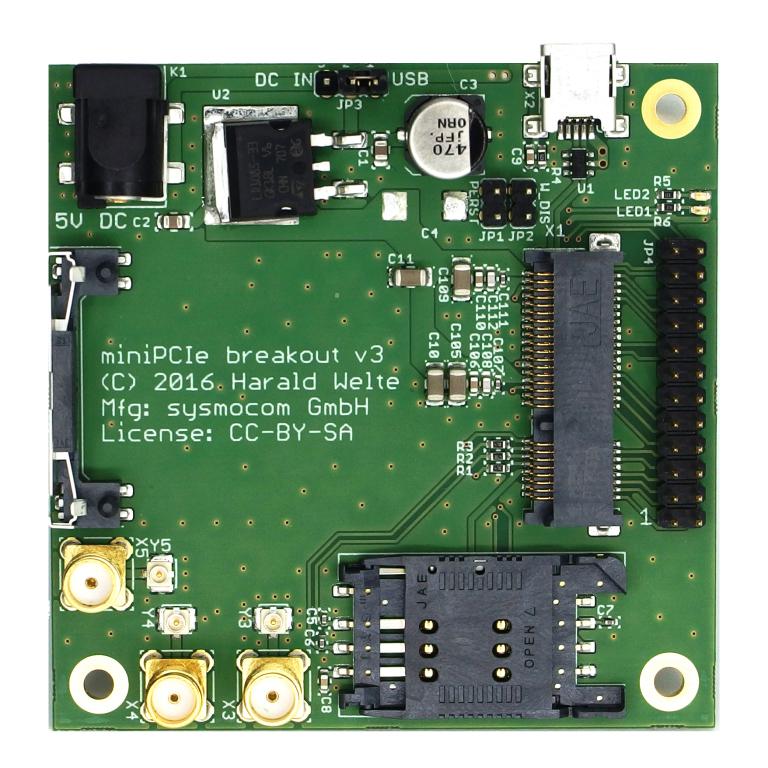 The miniPCIe WWAN modem break-out board is a useful utility for evaluating any kind of cellular modem in the classic miniPCIe form-factor.
miniPCIe form-factor modems are pretty commonly found for all cellular technologies from CDMA and GSM/GPRS all the way through LTE. The transmission speed on this form-factor is limited to the 480 Mbps of USB 2.0 high-speed.
Key Features
The main features of the board can be described as follows:
on-board linear power regulator generating the 3.3V supply voltage for the miniPCIe modem

USB 2.0 high-speed signals exposed on USB 2.0 mini-B connector (miniB-A cable included)

2FF (mini-SIM) slot for RUIM/CSIM/SIM/ USIM

all unused miniPCIe pins are exposed on a 2.54mm break-out header. This is useful for attaching to non-standard interfaces such as PCM audio busses of modems.

PERST and W_DISABLE can be configured via jumper

3x on-board SMA sockets with U.FL next to them; U.FL to U.FL pigtail cables included. This provides proper strain relief of any antenna connections to the modem.

Power LED and Modem Status LED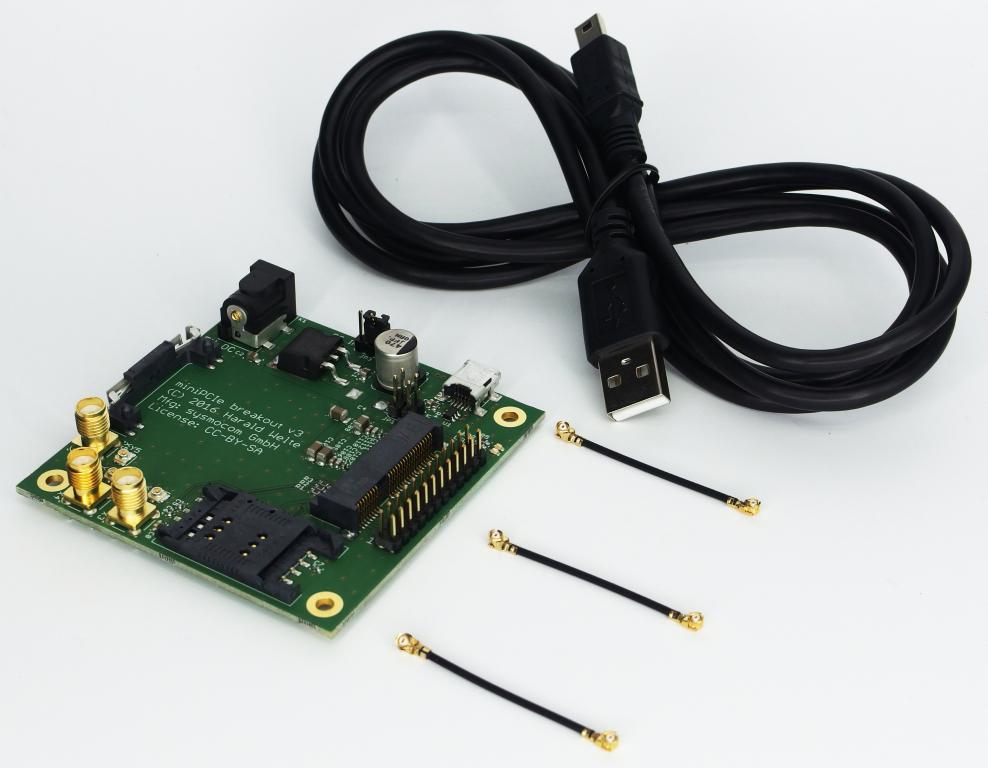 Compatibility
As the miniPCIe modem break-out board adheres to the miniPCIe mechanical form factor and standardized pin-out, it should work with any WWAN modem, irrespective of the supplier.
Open Source Hardware
The miniPCIe WWAN modem break-out board was created as an OSHW (Open Source Hardware) design.
This means not only schematics are available, but also the full design files including PCB layout. Anyone may create derivative works under the terms of the Creative Commons Attribution Share-Alike (CC-BY-SA) license.
For more information, see
Mechanical / Electrical specification
| | |
| --- | --- |
| Dimensions of PCB | 90 x 80 mm |
| Mounting | M3 Mounting Holes for spacers/stands |
| SIM/UICC slots | 2, ETSI/3GPP 2FF form factor |
| USB port | USB-micro-B (3.0) |
| Debug facilities | all unused miniPCIe signals exposed on 2.54mm pitch header |
| LED | 1x Power (gren), 1x Modem Status (yellow) |
| Input Voltage | 5 V DC (typ) on 5.5/2.5mm barrel type |
Schematics