News: OsmoCon 2018 Oct. 18./19. in Berlin
OsmoCon (Osmocom Conference) is the technical conference for Osmocom users, operators and developers!

As a result to the success of last's year first OsmoCon, we are proud to present this year OsmoCon 2018 in a new venue with even more enlightening speeches over two days.
The Osmocom Conference brings together users, operators and developers of the Osmocom Open Source cellular infrastructure projects, such as OsmoBTS, OsmoBSC, OsmoSGSN, OpenGGSN and others.
Among the talks are topics like:
"External SS/USSD Interface" by Vadim Yanitskiy (freelance, RU)
"3GPP LCLS in Osmocom" by Harald Welte (sysmocom, DE)
"Operating a real-world roaming 2G network using Osmocom" by Anthony Timson (Wavemobile, UK)
"Inter-BSC hand-over" by Neels Hofmeyr (sysmocom, DE)
"Load-based hand-over" by Neels Hofmeyr (sysmocom, DE)
Have a look at the full schedule and buy your tickets here.
The dinner on Thursday evening will give you the possibility to network and relax.
Join us for two of presentations and discussions with the main developers behind Open Source Mobile Communications, as well as commercial and non-profit users of the Osmocom cellular infrastructure software.
Find more information on Osmocom.
News: sysmocom introduces new sysmoBTS 2100
The sysmoBTS 2100 is a new, low-power, small-formfactor IP-backhaul GSM BTS for medium coverage outdoor applications. Replacing the popular sysmoBTS 2050 it offers higher output power, integrated cavity duplexers and bigger maximum reception area.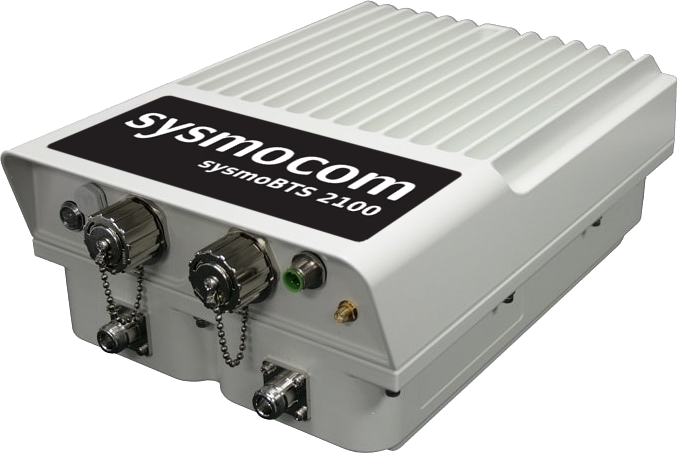 The sysmoBTS 2100 offers supreme cost efficiency and is suitable for a wide range of applications, including:
Rural cellular networks in lowest-ARPU regions
Rapidly deployable GSM networks
Private GSM networks (PBX style use)
Remote area GSM deployments, utilizing any IP-based satellite back-haul service
Offshore wind farms, oil rigs
Onboard coverage on maritime vessels (ferries, cruise ships, commercial vessels)
Get information about the sysmoBTS 2100
News: Availability of sysmoQMOD product
To complete sysmocom's portfolio of lab and test solutions, we are proud to introduce our new sysmoQMOD quad modem board. The board can carry up to four mPCIe WWAN modems which can be remotely managed and monitored. The built-in remote SIM forwarding capability allows the modems to remotely utilize SIM cards from different physical locations via internet.
Due to it's open and flexible design, the sysmoQMOD is a versatile solution for hosting and controlling multiple modems in many applications like
remote roaming testing probes
cellular network service quality testing
least cost routing
equipment testing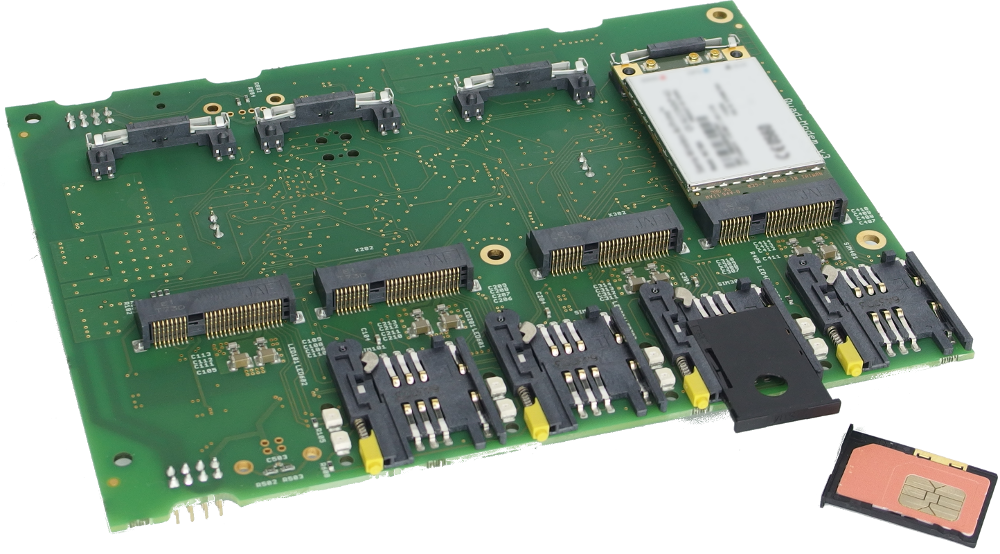 To get more information about the sysmoQMOD, please visit the sysmoQMOD product page
About sysmocom
sysmocom fills a gap in the telecommunications market for development, products and services. The existing equipment and service vendors are offering products by large companies to large companies. If you are a small start-up, local/regional MNO or MVNO, you will have found it incredibly difficult to satisfy your needs from the large Telco equipment vendors.
You don't have to have a big budget in order to roll your own GSM network. We have first-hand expertise in the right mixture of Open Source technologies like OpenBSC, OsmoSGSN and OpenGGSN, economic base station technology and off-the-shelf computer hardware to solve your problems.
Even if you are a large operator, we still may have something to offer to you. You are probably used to the fact that your equipment supplier tells you all kinds of things that are allegedly impossible, or require you to buy their next generation hardware even for a minor software feature change. If you have a specific request regarding analysis of your network, or interfacing equipment of different vendors: Talk to us. We will help you to find the best technical and economic solution for your problem, truly independent of any vendor bias.
Our services include
custom research and development in mobile communications networks and protocols, from RAN to core network
supplying equipment for small MNOs and MVNOs - from SIM cards over core network elements to the BSC, from picocells to small cells to macro-cells.
consulting and training services
security audits with specific focus on penetration testing of GSM protocols and interfaces
protocol tracers, analyzers and converters
development of back-haul protocol optimization
small GSM networks / network simulation for research, education, training, R&D and factory testing of mobile devices
load testing and roaming testing
circuit design and software/firmware development of M2M devices using GSM/GPRS/UMTS/LTE modem modules (Wavecom, Cinterion, Option, Simcom, u-blox, Quectel), GPS/GNSS receivers, etc.
systems for M2M device testing
receivers and simulators for various other radio technology like AIS and ADS-B
We're looking forward to hear from you!